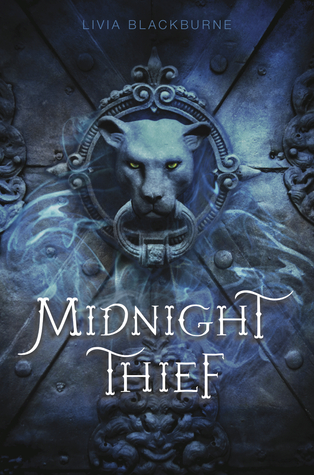 Midnight Thief
By Livia Blackburne
Publisher: Disney-Hyperion
Release Date: July 8, 2014
Series or Standalone: Midnight Thief #1
Websites:
Livia Blackburne – Website
Livia Blackburne – Blog
Livia Blackburne – Twitter
Rating:
---
After reading Poison Dance, I couldn't wait to read Midnight Thief. Midnight Thief did not disappoint. Livia Blackburne's debut novel is a perfect addition to YA fantasy genre.
I loved the world that Livia Blackburne created. The world that Kyra, Tristam and James occupy is as important as any character in the story. It's a richly nuanced world that provides the perfect backdrop for this story. Forge is not a perfect place, its corrupt and has its fair share of issues, which makes it perfect for Kyra's story. There is complex political atmosphere in Forge, but Blackburne makes it easy to understand everything that is happening in Forge. Blackburne has a much stronger grasp on establishing a detailed fantasy world than some veteran authors. Everything worked and the pieces fell in place perfectly within Forge which helped make the plot twists believable.
Kyra was a great main character. She was extremely loyal to those she cared about and willing to do what it took to survive and to provide for those around her. She's an extremely impressive thief and I loved reading about her adventures. While she does get placed in some difficult situations, I enjoyed seeing her struggle to remain true to herself and stick to her morals. I enjoyed that as the book went on, we got to learn more about Kyra and see her struggle to come to terms with who she was. Her background was a mystery to her and the reader at the beginning, but we slowly learn more about who she is. I'm excited to see her character grow even more in the second book in the series.
Man, how wrong was I about James. He's the focus of Poison Dance and an integral player in Midnight Thief. He really took me by surprise in this book. I did not expect his character to make the decisions that he did. He's an extremely talented and charismatic leader of the assassin's and I felt like he played me as well as he played everyone else. He's extremely important to helping Kyra's development as a character, and not because he's "darkly attractive." His actions are important to Kyra's questioning of her own limits and identity. James really was such a great character, I loved the scenes with him in it. He really took me by surprise.
We also have Tristam, another character, who in many ways is the exact opposite of Kyra. Their situations in Forge couldn't be more different, but when you threw them together, they worked. Their story lines overlapped and blended together perfectly. He's a good ally for Kyra to have, and a deeply loyal friend and knight. He's one of the good guys, and I'm excited to see how he deals with the incidents that occurred in this book.
While there is romance in Midnight Thief, it does not take center stage. Romantic tensions run high in some scenes, and I enjoyed them, but was really glad that they were not the most important thing. I enjoyed that Blackburne let the relationships and the romance build throughout the book, leaving more room for it in the sequel. Sometimes, less is more in the romance department.
The plot twist in this book was not what I was expecting. I loved every minute of reading this. Everything from the assassins, to the demon riders; it was great. The pacing was perfect, with the action scenes happening at the right times. Their were so many secrets and lies in this book that you did not know who to trust or what to expect next. The second half of the novel flew by as the story really got into its grove. I'm so excited to see what happens next.
Midnight Thief is a must read for anyone who loves fantasy. It's a story of twists and turns set against a fabulous world. I loved reading about Kyra and her adventures and am hungry for more. I also really love that Midnight Thief is a duo logy (I'm so sick of trilogies). Fans of Kristina Cashore and Tamora Pierce should definitely pick this book up. Livia Blackburne's debut is a solid YA fantasy that has provided the perfect groundworks for a sequel. I highly recommend you pick this one up sooner rather than later.
---
GIVEAWAY
Luckily, I was able to attend Livia Blackburne's Boston launch of Midnight Thief. I'm giving away a signed copy to one lucky win. Open to US residents only (sorry!)